Latest feedback (2018 to 2019), and price adjustments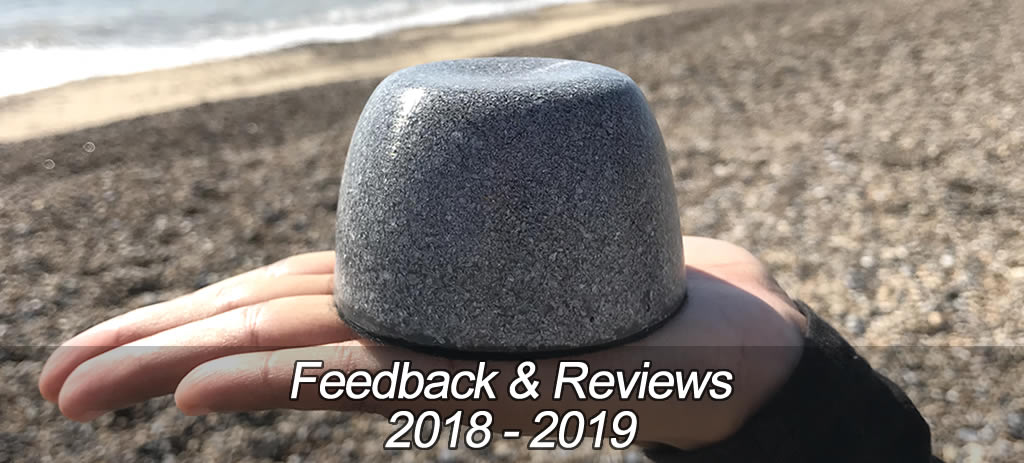 Since the last update about a year ago, I'm very fortunate to have received comments, reviews and testimonials from some amazing people all over the world.
It's a privilege to make a living doing something I'm so passionate about, and humbling to receive clients' comments and experiences with the pieces.
Please see some of the comments below, along with links to the relevant items:
---
I notice the difference in the air of my house, its much better now.
I'll put the tower busters in Lisbon… especially in the places i walk around. I think i'll put it in the ground near a tree so nobody sees them.
It's really cool to think that there is this kind of treasure all around the word and nobody knows about it … it's like going on a happy adventure where all the people are receiving light without knowing 🙂 It makes me think how much help i (and others) received without notice it.
I believe that orgonites are gifts of the higher beings to us.
From S.M. (Portugal)
17 Piece Orgonite Deal
---
Excellent communication throughout. Adam is really passionate about his products, and were despatched quickly and very well packaged. Also given a couple of Field Grade Tower Busters free as a Thank You.
I ordered the gold Tipped Lemurian Holy Hand Grenade Cones, and the quality is fantastic with a nice felt bottom to protect your furniture. Can't wait to feel the benefits of the better Energy in my house.
Will definitely be ordering again.
From B.W. (UK)
Gold Tipped Lemurian Cone
---
Put them in water to give them that extra charge, and they did even better than I expected. Thank you.
From L.W. (USA)
Lemurian Towerbusters
---
Placed TB's on the floor in corners, and within a few hours felt better!
I was skeptical re orgonite TBs, but I'm starting to believe! Cheers!
From R.V. (UK)
Field Grade Orgonite
---
delighted!! Thank you!! Could feel the difference in my home immediately!!
From J.L. (UK)
Field Grade Orgonite
---
Sorry to bother you again but, i thought i would share this with you.
I starting leaving our drinking water on top of one of your TB's and with 1 week (this sounds mad but) my nose started to straighten
and i can now breath through it . This might not sound amazing to you but i have had a broken crooked nose since i was a child
it has been broken a few times over the years (boxing,car accident etc) i also suffer/suffered from sinus problem very badly since childhood which left my nose basically unusable.
People have actually remarked about how is my nose so straight now!. The only thing i have changed in the last 38 years is leaving our water on your TB's.
Again i know this sounds a little nuts but it is the truth.
Follow up message:
The water was just good old fashioned Lidl water in a 5 litre bpa loaded plastic bottle.
The tower buster is left on the floor with the bottle balancing on it and leaning against the table leg.
And yes a 5L bottle lasts us just over a day.
I buy a few bottles at a time and place them around the 'balancing bottle' as closely as possible.
I have purchased "fancier" looking Tbs than yours since…… but i do not feel the same effects from them even though they claimed to be the "most powerful tbs on the market", containing gold & silver leaf etc.
I am not religious or superstitious in any way. I am by no means a 'hippy' or into 'new age bla bla' fairy's, ghosts or spiritual anything.
I have always believed than if you can not weigh or measure it it aint real, i also always believed that when you die the switch is flicked and the lights are out, black end of.
I would also like to mention how much better my arthritis is (both knees, left hip) i left school at the age of 12 and started roofing when i was 13, through out my teens and 20's i would jog 10 miles a day so between the two my knees were 'knackered' at a young age.
My collarbone was broken when i was 14 and never attended to medically. I had a bad fall 12+ years ago and hurt my back( i found out 2 months ago when i finally went to a doctor because it became unbearable that i have trapped nerves and a slipped disc, due for an operation soon).
All of these problems have improved greatly since i started using your TB's…?
And yes it is a completely new lease on life being able to breath through my nose now thank you.
I must admit though that i still have not quite gotten used to it yet i simply do not realise or forget if you will, that i can . 😉
Again i do not know or understand why any of these problems have improved i just know that it all started within a few days of you TB's arriving.
From J.G. (Ireland)
Field Grade Orgonite
---
Very Impressed, Very powerful and out 'Organises' the competion!
Love these little beauties, Do all they are supposed to and more!
From J.S. (UK)
17 Piece Orgonite Deal
---
spoke to (friend) yesterday..said she received her package. I understand she will approach you about getting some if the small plain ones as well.
She's hooked! Lol. I gave her one of mine..and she noticed a difference in the energy around her…and how things manifested. And people approaching her differently. She is good people…in a tough town. I felt I was to give her one. Glad I did. You have wonderful products. Bless you for the care you give in creating them..and your care for your customers.
From D.M. (USA)
Field Grade Orgonite
---
I'll be leaving a 5 star review, thank-you so very much for my beautiful lemurian orgonite, and you're too sweet to include me two free tower busters Adam!0:) thank-you so much to you amazing beautiful souls helping fight for humankind, can't wait to purchase more and advise friends of your company! many thanks, & all love lovelove to you brother 0:)
From S.C. (UK)
Lemurian Towerbusters
---
Erradicated tinnitus and migraines. We have these all over the house to offset negative effect of a cell tower that's just gone up outside our property. Within a few hours my husband's tinnitus had gone and I've not had a migraine in 2 weeks which were 2-3 a week. The seller was lovely and gave us 2 extra freebies which we have on our work desks. Absolutely brilliant, thank you.
From S.J. (UK)
Field Grade Orgonite
---
I'm using them at home, they make me feel light, happy, joyous and light headed all at the same time. I love these. I'm so thankful that these exist, I've bought 2 lot's now, they always send me more than the 12, 14 for both orders.
I place these around the home and garden and they make everything smell fresh, it's hard to describe, there's no heaviness anymore.
I placed 3 under my bed last night and woke so full of beans and ready to go. These little beauties are literally a life saver.
Thank you.
From M.D. (UK)
Field Grade Orgonite
---
Have placed several repeat orders with 'Orgones' UK and am more than happy with the quality of Orgonite, service and fair pricing. Orgones are fast, discrete, professional, a joy to buy from. Moreover their Orgonite is very good quality, some of the best I would say after having cast Orgonite myself for years and bought from other venders. I absolutely recommend Orgones Orgonte: It works. Do yourself a favour, try some.
From A.S. (UK)
Lemurian Cone
---
Hi Adam just wanted to say Thankyou so much for the great service. Your products are quality and you communicate very well with what is happening with the order. I will defiantly recommend you to my friends. Thankyou once again for the gifted tower busters.
I have it with me all the time and when I sleep I make a triangle so I have the 2 tower busters one to the left one to the right on the floor past my feet and the pendant ubove my head. The same for meditation around me. I am noticing I am very calm the last month or two so I'm certain it has made a difference. I am quite sensitive to city's and crowded places.
From M. C. (UK)
Gem Orgonite Necklace/Keyring
---
Very good service, ORGONITY of the highest world quality.They work I recommend !
I feel energies very clearly in the hands of ORGONIT.
I have been a Reiki Master for 20 years and I have a lot of energy sensitivity in my hands …
Holding your orgonites, I feel the warmth that flows out of them and the kind of vibration that comes out of them.
They are really an interesting product and I will certainly recommend them to friends and family and I plan to buy PERSONAL ORGONIT for myself and my partner.
From P.B. (UK)
Lemurian Towerbusters
---
Loved the setup and clarity of your website together with the additional explanation on everything. Really one of the (if not the) best and broad sources regarding clear and precise info on orgonite.
From Y.N. (Netherlands)
17 Piece Orgonite Deal
---
I am so pleased with your product I am telling all my facebook friends to buy from you as you produce the best I have come across!
From J.S. (UK)
17 Piece Orgonite Deal
---
Wonderful product. We all Have had the best deep refreshing sleep since we move to this home, including the kids! Thank you!
From D.A. (UK)
Field Grade Orgonite
---
Really well made professional grade TB's. Impressive
From G.K. (UK)
Field Grade Orgonite
---
Arrived quickly, very lovely, feel very tranquil very happy. Thank you 🙂
From H.A. (UK)
Field Grade Orgonite
---
Just wanted to pass on a grateful thank you from my friend – I gave her one of the design B keyrings on Monday and she sent me a message yesterday saying that she'd had 2 full consecutive night's sleep – the 1st in 6.5 years and was so grateful.
She is a religious Christian and therefore doesn't 'get' alternative stuff like Orgones or OBEs, lucid dreaming etc. and just smiles sweetly when I talk about it, so it's particularly gratifying that she has had such a strong result even though she doesn't believe in it. I'm hopeful that her daughter will have similar success (she told she had some rose quartz in her bedroom somewhere but never got it out and me giving her the orgonite would prompt her to bring that back into the open again).
So thanks from them and thanks from me.
From N.S. (UK)
Gem Orgonite Necklace/Keyring
---
Have been feeling the benefits from your organite!
I like the fact that your organite is simply but well made and is a really good price.
I felt as though I slept better last night and I gave some to my Mum and she said she slept better too.
From S.J. (UK)
Field Grade Orgonite
---
I have just received the orgones with amazing built quality !
Hope more people reach you and benefit from this fairly known items.
From A.T. (Bulgaria)
17 Piece Orgonite Deal
---
Hey Adam!
Thanks a million mate!
I like how orgones interact with my days. I placed those tower busters in my place, and even my relationship with my uncle have got so much better. Like, we were good and close, but somehow it changes vibe in the room. I really do feel that my days goes, kinda smoother and with more ease and more drive.
Thank you so much, keep doing a good job man!!
From K.L. (Ireland)
Field Grade Orgonite
---
My orgonite arrived a few days after my online order.
I greatly appreciated the two free Orgonite Tower Busters. I'm now experimenting with them and seeing what impact they have. I'm using one by my bed and I'm finding that I'm sleeping much better.
I will, of course, recommend your company to others.
From J.B. (UK)
Gold Tipped Lemurian Cone
---
Hi.Package arrived safely today and I'm absolutely delighted; thank you so much for the free extra pair. Even the jiffy bag and ziplock bags can be re-used/recycled! I'm going to keep a spare piece in my car; not just as an experiment on its effects but I'll always have a sample with me to show friends; I intend passing your details on to as many potentially interested parties as I can so, fingers crossed, this may generate some additional business for you. I'm just about to leave your well-deserved feedback.
From R.M. (UK)
Field Grade Orgonite
---
Very strong! You feel the energy exchange!
Few experiences i have so far with them:
HHG
I place it in a few room to clear/purify them. You feel like there is a bubble that draw the energy of the room. After a few minutes (~25min), you already feel and see the change in the prana. I use to have a stone entity problem. I try placing the hhg next to them for one night, problem solve 😀
TB
I was feeling nauseous in the electric room so i place one there. The feeling is gone!
The other one, i place it at my feet in my work room. It was amazing! feel the négatity/toxic energy being draw. My leg and feet become hot! And i start feeling super calm. Unlock a few blockage too!
Sorry if there is error, french guy 🙂
Anyway, i definitively recommend the HHG or TB, real working stuff.
I wish you health and success. Continue sending those health bomb over the world 😉 they are very strong and effective!
From M.B. (Canada)
Gold Tipped Lemurian Cone
---
they have helped to get structure into the field of my family home. now we did resolve our conflicts and boarders are communicated and accepted. feels lighter there than before. I remember coming back after being 5 months abroad. I could not take it. entering the house was like a shadow that covered my body. now its lifted
From C.P. (Austria)
Lemurian Towerbusters
---
I am really happy with my purchase. Took me some time to find the website (person) with the right resonance.
These Orgones are made with knowledge, dedication and love.
It is more then good craftsmanship… this feels like made by an artist.
Adam is really helpful and informative if you have any questions. I will definitely buy some more of these beautiful products.. but first enjoy these ones.
From R.H. (Netherlands)
Field Grade Orgonite
---
This is so beautiful to look at. I slept with it under my pillow last night and can remember no bad dreams.
From D.H. (USA)
Insomnia Aid
---
I ordered some Orgonite from Orgones for the first time, this is the third time I have purchased it in total.
Firstly, I have to say I was amazed at how quickly it arrived here in Ireland, at least 2 days ahead of what I was expecting!
It was very well packaged and the organite is very well made. The Field Grade pieces I think are very good as they are a good size for the jobs they have to do, and also the build quality.
There has been a huge difference in the room with the wifi and other devices. I had been using smaller pieces which had helped but I still felt the feeling these devices give off. I have now put a hhg on the router and feel nothing, same with the TV.
Overall, impressed with speed of delivery and they work very well.
From G.N. (Ireland)
17 Piece Orgonite Deal
---
These are excellent little tower busters, i turn off my wi fi and disconnect my phone at night, but with the onset of dangerous 5g and not very smart meters, i still get disturbed at night and anxious during the day. Since arranging these at key locations, the house now feels more open a free and i sleep well at night.
From P.C. (UK)
Field Grade Orgonite
---
First and foremost, thank you so much for the hard work you do, while spreading such a wonderful message whilst doing it. I have been checking the status of the package nearly everyday, waiting in anticipation; I was thrilled to receive it yesterday!
Not only is the HHG beautiful but to be surprised with three tower busters was just so utterly kind of you; thank you so much! Sincerely, I just knew you were the "right" company to purchase my first Orgones from and the universe didn't disappoint; but does it ever? 🙂
I can't wait to give you a fantastical review and for others to be blessed with such great work from even greater people!
I thank you so much for being such a help during this time and for sending me your product; you are appreciated more than you know and I hope only wonderful things are sent your way!
Thank you again, Adam, and all the best to you and yours!
Follow up message:
If you're searching for the right place to buy your Orgones – YOU'VE FOUND THAT PLACE! 🙂
Adam and OrgonesUK are top notch, not only when it comes to their product but their customer service, as well. I had no idea what I was doing but Adam has been so helpful to ensure I make the right purchase; OrgonesUK want to share their wisdom and they go out of their way to help!
Not to mention, when I received my beautiful HHG, it arrived with beautiful *FREE* Tower Busters – I'm sure anyone would be hard pressed these days to find such a wonderful retailer whom cares so much that they actually give free gifts in order to spread the love!
Thank you again, OrgonesUK, Adam and your entire team – you've made this a great experience and I will definitely be purchasing more in the future!
From S.W. (USA)
Gold Tipped Lemurian Cone
---
Excellent highly recommend! Very well made and presented! Thanks sooo much!
From K.P. (UK)
Lemurian Towerbusters
---
I'm so thankful for your orgonite devices. In particular the gold tipped HHGs with the Lemurian record keeper crystals are mind bending. Drip feeding understanding into my mind.
From J.G. (UK)
Gold Tipped Lemurian Cone
---
I have spoken to quite a few folks over the last two years about orgonite..
..I favor your product…the make..the ingredients..and you the maker…your genuineness..
I know you use the correct ingredients…create the orgonite in the correct way….have the correct attitude….can feel it in your products..
that is why I recommend yours over many others..
..and the "look" of your products is also appealing.
From D.M. (USA)
Lemurian Towerbusters
---
Price adjustments
Since launching in 2017, I've been determined to keep prices as low as possible, and believe that price shouldn't be a barrier to anyone owning orgonite.
I've managed to hold prices for the past two years, despite increasing the size of many pieces by 20-40%, but sadly have no option but to adjust the prices now.
I was hoping to be able to give a couple of months notice before making any changes to the prices, but the tipping point has been reached quite suddenly, and I have no option but to make the adjustments.
Several factors have contributed to the prices having to be adjusted, including some of the materials becoming quite rare, which has caused the price to go up. Some materials are becoming so rare that they are periodically becoming unavailable, meaning sometimes money can't buy them.
A lot of love, time and care goes into every piece that I make, and I work hard every day to ensure they are the best they possibly can be.
The materials used are of the highest quality, and are optimised to give maximum efficiency, processing capacity and allowing for an organised, directional flow of orgone through the piece.
I still feel that the pieces offer exceptional value for money, but if the price of anything is prohibitive for you, please let me know.
I sometimes have pieces that are aesthetically flawed, but that function perfectly fine. I can offer these pieces at a discount, but they never stay around very long!
I can also make some pieces at a slightly lower price, if part of the process or materials are excluded. For example, the vast majority of the field grade pieces are used by people indoors, so I generally finish these to a high standard, with the edges sanded to make them smooth, and with no protruding parts.
However, if you are using the field grade pieces outdoors and have no problem with rough edges or protruding parts, I can make them for a slightly lower price.
---
If you found this article useful or have any questions, please share it, leave a comment or contact us.
Published on: Apr 28, 2019