Archive.fo links are currently inactive if using Cloudflare's consumer DNS service 1.1.1.1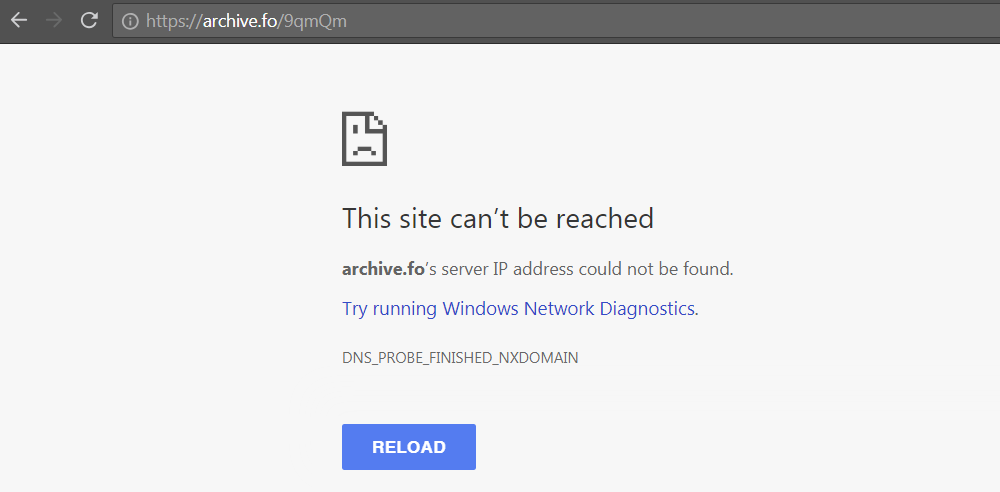 Last updated on: Feb 17, 2018
Archive.fo have been having domain issues, https://archive.ph and https://archive.md are alternative domain names worth trying.
The nature of the internet means that websites can be here today and altered or gone tomorrow. This has given rise to the development of archiving services, and free online archivers such as archive.org's Wayback machine and archive.fo's webpage capture.
Archive.fo (also known as archive.is or archive.today) quickly takes a current snapshot of any website for access in the future, and we use it extensively for backing-up and preserving sources and references.
It was brought to our attention recently that all of the hundreds of archive.fo links on our site are inactive, with Chrome browser giving the error:
This site can't be reached
archive.fo's server IP address could not be found.
Try running Windows Network Diagnostics.
DNS_PROBE_FINISHED_NXDOMAIN.
And Firefox returns "Hmm. We're having trouble finding that site. We can't connect to the server at archive.fo.":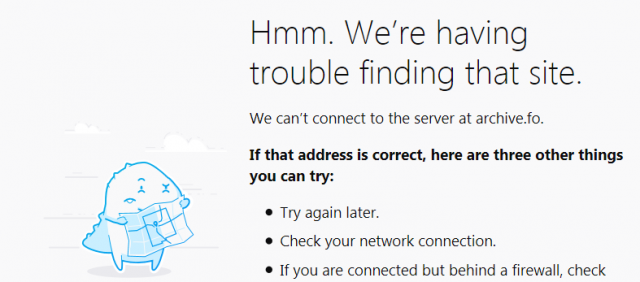 Upon further investigation it became apparent that this error only occurs when using Cloudflare's free 1.1.1.1 consumer DNS service, and archive.fo links are otherwise working fine for everyone else.
This has been picked up on reddit, where users speculate that it could either be a technical problem between Cloudflare and Archive.fo, or possible censoring by Cloudflare.
Either way, anyone using Cloudflare's 1.1.1.1 DNS service can not access any archive.fo links such as this archived wikipedia page for the concept of Chakras.
Sadly this is outside of our control, but there are some workarounds for accessing archive.fo links while using Cloudflare's 1.1.1.1 DNS service:
---
Use Tor Browser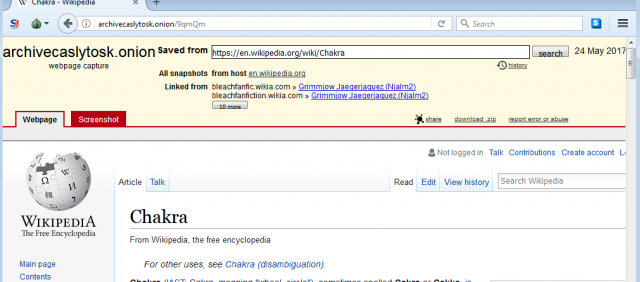 The Onion Router (Tor for short) is a free browser bundle and internet networking protocol designed to anonymise the data relayed across it, based on Mozilla Firefox.
Archive.fo can be accessed without restriction at archive.fo via the Tor browser, or accessed directly via their Tor site at archivecaslytosk.onion (only works on Tor browser).
If using the .onion address, any link – for example archive.fo/9qmQm – can be accessed by placing the suffix onto the onion address, such as archivecaslytosk.onion/9qmQm
Use google translate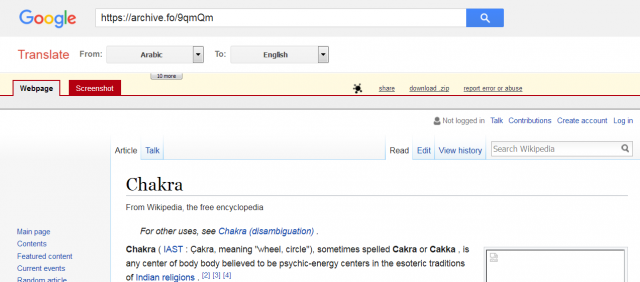 Google's translate service has the advantage of acting like a proxy, so archive.fo can be accessed when the URL is entered there, just select translate from something like "Arabic" to "English" (because google will not display the site from English to English).
For example, this link displays archive.fo/9qmQm fine for anyone using 1.1.1.1 DNS.
Use an online proxy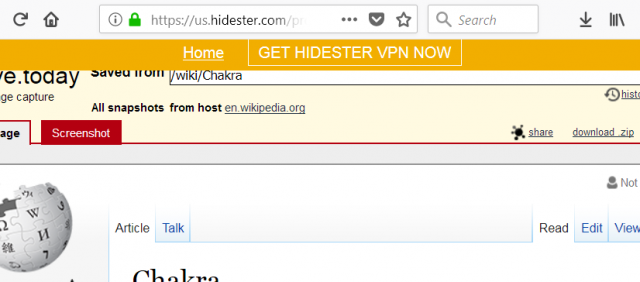 Searching for "online proxy" on your favourite search engine returns many online proxies that enable archive.fo links to be viewed using 1.1.1.1 DNS.
Switch DNS service
The bug or censorship preventing users of Cloudflare's DNS service accessing archive.fo has been present for several months now, and it will be interesting to see if the issue is resolved, or whether more and more websites fall victim.
If you prefer to not use Cloudflare's DNS service, you could revert back to your ISP's DNS service, or use alternative free ones such as Google's 8.8.8.8 DNS service, or consider using a paid DNS service.
---
We are going to continue using archive.fo for preserving sources and references, and will refer anyone with difficulty accessing archive.fo while using Cloudflare's 1.1.1.1 DNS to the workarounds given in this article.
If you found this article useful or have any questions, please share it, leave a comment or contact us.
Published on: Jul 25, 2018